Saint David's Uniting Church
& Castle Square URC
Minister: Rev. Dr Phil Wall
Tel: 01443 300345 Mob: 07855090360
Website: www.stdavidsuniting.org.uk
Admin email: office1.sduc@gmail.com
22nd May 2022
We extend a welcome to you all to join our morning worship at 10:45am which will be led by our minister and will include the sacrament of Holy Communion. All are welcome to share in the bread and wine.
The service will be live streamed and will also be available later on YouTube, https://www.youtube.com/channel/UC1ftWuXHexnfFdo1FKwXBZA
Today, the candle we light will be placed on the clavinova as we share the sad news that Cerys Webber died on Wednesday evening. Stephen and his two sisters were by her side. This is, of course, hugely sad news for us all as Cerys was a force of creativity, warmth, and inspiration and the church will not be the same without her. We will keep Stephen in our prayers and remind one another that all those who have gone before us are held in God's strong love.
At 6 pm this evening you are invited to come along to our storytelling Communion on ZOOM, where we'll share stories, anecdotes, maybe the odd poem, before reliving the story of Christ's feast. This month's theme is 'Home'. So if you have a serious or silly story, a profound pondering or poetic parable about a home, your home, God's home – or just want to come along and listen – you will be very welcome. The link to join the service is the usual one, below: https://us02web.zoom.us/j/89461145366?pwd=S3ExNTVjdGVGdXlGVlNQc2k3eldudz09
§●§●§●§●§●§●§●§●§●§●§●§
Church Family and Pastoral News
We include this in the news sheet to inform our prayers.
We are all deeply sadden by the news of Cerys's passing as in Stephen's words she combined her faith, her love of music, science and the arts, her kindness, intelligence and compassion into a life that was fulfilling and helped fulfil other peoples' lives. We hold Stephen, Cerys's Mother, her sister Eleri, brother Wyn, his wife and family along with Stephen's sister's Ann and Gaynor and brother-in-law Philip in our prayers at this very sad time.
We remember those in our fellowship who have hospital appointments this week.
Martha and Gill Miller are both improving slowly but surely.
We remember those who are in residential care, especially Margaret Major, Valerie Henson, Sue Salmon, Edith Thomas and Diana Hayns
Birthdays
There is just one birthday that we are aware of this week and that is Pete Davies who is celebrating today (22nd)
Thanks
from Brian and Marcia ….…. for the flowers received last week, they were much appreciated and made us realise that we are a part of fellowship that cares for others. Thank you!
from Gwyneth…. for the cards and good wishes received while she was in hospital. She is pleased to be home at last after her discharge was delayed due to the wound not healing and is looking forward to joining the ramblers again!
Good News
Rosie O'Callaghan Williams has completed her first year at Nottingham University where she is studying for a career in the police force – she is doing well.
John and Jean Davies will be moving back to the Graig. They have been allocated a flat in Cwrt yr Osaf, Union Street.
They hope to move on May 30th. We wish them well in their new home.
§●§●§●§●§●§●§●§●§●§●§●§
Sunday Services Plus!
29th May at 10.45 – Being a 5th Sunday, we are encouraged to join the URC National Synod of Wales' Synod Service – at which we join in worship with sisters and brothers across our nation online – usual link.
For those who prefer a more intimate, physically gathered service, Michael will be leading a short service in Gelliwastad Road.
5th June at 10:45am – Gelliwastad Road. We celebrate Pentecost and the start of Pride month as Ray leads a service interweaving these themes and we welcome guests from the Independent Office for Police Conduct's Pride network – who want to join us for worship!
5th June, 5-7pm – Gelliwastad Road. We end this day of celebration with a fundraising games afternoon/evening as we raise
money for Christian Aid. Some will be action games and there will also be 'table' games for the less mobile!! ALL ages and abilities will be catered for! SO come along and join in an evening of fun with friends and feel free to bring others with you. We are invited to bring along games for others to enjoy.
§●§●§●§●§●§●§●§●§●§●§●§
Castle Square URC
Last Sunday morning, the members of Castle Square URC made the difficult but faithful decision to begin the process of closing the church. After over century a service their part in God's mission is almost complete but as they look to celebrations to be enjoyed, grief to be shared, stories to be told, and friendships to maintain, we hold them all in prayer.
§●§●§●§●§●§●§●§●§●§●§●§
St. David's Uniting Church Elders
Nomination forms for two places on the eldership are now available at Gelliwastad Road until May 29th. Please speak with your elder/pastoral buddy if you are unable to pick one up.
The Elders finishing their term in 2022 but who can be nominated again: (they still need to be nominated!)
Robert James, Maralyn Tomlinson.
All St. David's Uniting Church members can nominate any other church member whom they deem to have the gifts and graces to serve God through church eldership. More than one name can be given and neither a seconder, nor the permission of the person you're nominating needs to be sought. Please take some time to prayerfully consider this.  Elders will be affirmed at the AGM on July 18th.
§●§●§●§●§●§●§●§●§●§●§●§
Upcoming Dates for the Diary
Monday 23rd May, 7:30pm – Gelliwastad Road. Join us for an evening of inter-faith fellowship and learning as we explore the religious significance of Jerusalem for Jews, Christians and Muslims. The speakers will be Mark Stone from the Cardiff Jewish Community, Phil Wall and Sheik Asim Hafeez. To register your attendance please visit https://forms.gle/gKnervgFvBf3C9ox5 or email bl02nxt@gmail.com. Alternatively, if you don't have internet access, please add your name to the sign-up sheet at the back of the church.
Madagascar Musings! 7pm, Monday 30thMay – on zoom. In 2018, we celebrated the 200th anniversary of the Welsh link with Madagascar which began when David Jones and Thomas Bevan journeyed to the island to share the message of God's love as declared in the gospels. For over two centuries the two nations have developed a deep connection and today, we welcome families from Madagascar who travel to our land to share the message of God's love! One such hero is Miara Rabearisoa, who – along with wife Rebecca and daughters Hannah & Seren – has become a friend of St. David's Uniting Church. Miara is looking at leading a 2-week trip to Madagascar in the summer of 2023 and anyone wanting to find out more information about this is invited to come to a zoom meeting on Monday 30th May at 7pm on the usual zoom link.
§●§●§●§●§●§●§●§●§●§●§●§
URC Big Day Out 2022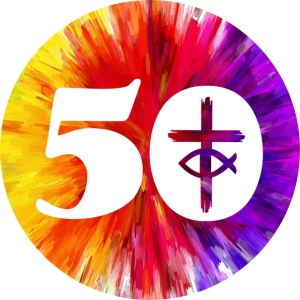 URC at 50: Celebrating the Whole People of God
Saturday 25 June    at    Royal Welsh Showground     Llanelwedd, Builth Wells
Everyone's welcome to the Synod's Big Day Out on Saturday 25 June, a free 'festival in a day' with transport provided to and from Builth Wells.
In previous years, crafters from across the Synod have contributed to blankets for orphanages in Madagascar plus hats and scarves for seafarers.
This year, we invite our Knitting Ninjas, Crochet Champions and Knit & Natterers to create colourful flowers. 
We also invite churches to consider how they might like to take away and use the flowers in their churches and communities – some suggestions are: flower rainbows, garlands, wedding bouquets, coffin-top covers, communion tablecloths.                 More details of the Big Day Out next week.
§●§●§●§●§●§●§●§●§●§●§●§
For those passionate about Male Voice Choirs
Cor Meibion Pontypridd are looking to recruit new members aged 18 or over. We currently practice every Tuesday at 7:30pm in Tabor Hall on Vaughan Street in Pwllgwaun (CF37 1HR). We are also looking for a new Musical Director and Accompanist to lead us from September.  Contact Ben Elwell c/o Tabor Hall
§●§●§●§●§●§●§●§●§●§●§●§
A reminder of our monthly service pattern All services at 10.45 unless stated.
1st Sunday           Guest Speaker.
2nd Sunday          Zoom Service ALSO a short service in Church
3rd Sunday           Service of the Word
4th Sunday           All age Communion Service
Storytelling Communion on Zoom at 6pm
5th Sunday           Synod Sunday on Zoom ALSO a short service in Church
§●§●§●§●§●§●§●§●§●§●§●§
Thought for the Week
'How wonderful it is that nobody need wait a single moment before starting to improve the world.'
Anne Frank